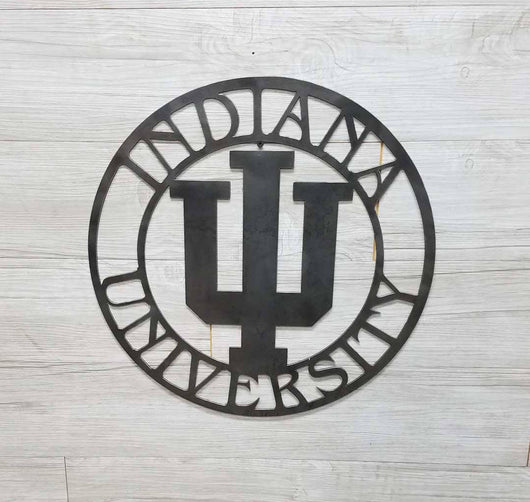 Indiana University sports circle (Home Decor, Football, Sports, Wall Art, Metal Art)
Regular price $40.00 Sale
Indiana University sports circle
This item comes in 18", 20",24" diameters and is cut out of 11G steel. This can be customized!
If you would like larger than 30", please message us and we will make a custom listing for you!
CUSTOMIZING
• ALL item can be customized even if they are not listed to be so just send us a message and we will make a custom listing for the item that you want customized.
MATERIAL
• 1/8" steel (our competitors usually use 16g or 18g making items MUCH thinner)
• Item weight is approximately 3lbs
*Metal Art Finishes - ALL Metal Art comes UNPAINTED unless specified. We have several color options of powder coat to choose from, Just shoot us a message and we can find the perfect color for you! If it is one that we do not have in stock we charge a $15 stocking fee on top of the cost to powder coat.
DIMENSIONS
We offer the following sizes:
18"
20"
24"
CUSTOMIZING
• Please include last name in the 'Note to Seller' section at checkout.
• Up to 10 Character Spacing for Name or Saying
MOUNTING OPTIONS
. Without any holes - to be hung on the cutouts or placed on display stand/ mantel.
SHIPPING
• United States - USPS Priority Mail (delivery within 3-5 business days) Powder coated items require 1-2 business weeks to ship if ordering a custom color option not currently in stock.
• We do not currently offer international shipping.