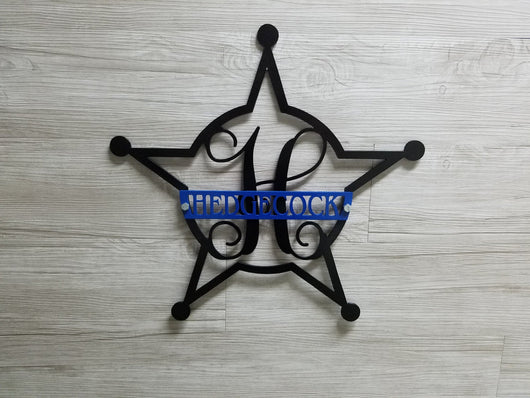 5 Point Police Badge With Name & Monogram (Home Decor, Wall Art, Metal Art, {Can Be Personalized})
Regular price $70.00 Sale
Police Badge Monogrammed Wall Art made of 11G Steel. This item is cut into two pieces. The badge with the letter and then the name is bolted to this item. It comes in 18" at it's widest point.
Please State which Monogram letter and last name that needs to be added!
This listing comes painted or un-painted depending on which you choose at checkout!
CUSTOMIZING
• If an item specifies just a name change please include last name in the 'Note to Seller' section at checkout.
• ALL item can be customized even if they are not listed to be so just send us a message and we will make a custom listing for the item that you want customized.
MATERIAL
• 1/8" steel (our competitors usually use 16g or 18g making items MUCH thinner)
• Item weight is approximately 3lbs
*Metal Art Finishes - ALL Metal Art comes UNPAINTED (Unless there is an option to have it painted) We have found that most people like the unpainted look and do not paint the artwork but the intent is for you to paint it yourself to match the decor you already have.
CUSTOMIZING
• Please include last name in the 'Note to Seller' section at checkout.
• Up to 10 Character Spacing for Name or Saying
MOUNTING OPTIONS
. Without any holes - to be hung on the cutouts or placed on display stand/ mantel.
SHIPPING
• United States - USPS Priority Mail (delivery within 3-5 business days)
• We do not currently offer international shipping.
• We ship based on the date of the invoice, unless we have a problem with your order - then we will contact you via ETSY MESSAGE. All communications willhttps://www.etsy.com/your/shops/3DMetalWorks/tools/listings/492414889?ref=listing_card_body&from_page=/your/listings be done via ETSY message.